Wallet, Cell Phone, Ring, Keys, Pen, and .....Memory Cards!!
August 11, 2019
This shot of The U.S. Women's National Team (USWNT) on the steps of NY City Hall with Confetti and the World Cup Trophy was featured on CNN and was a good image to use as the basis of the 2nd Blog posting in the series of How Did I Get This Shot. A platform for sharing stories of the behind the scenes of an image.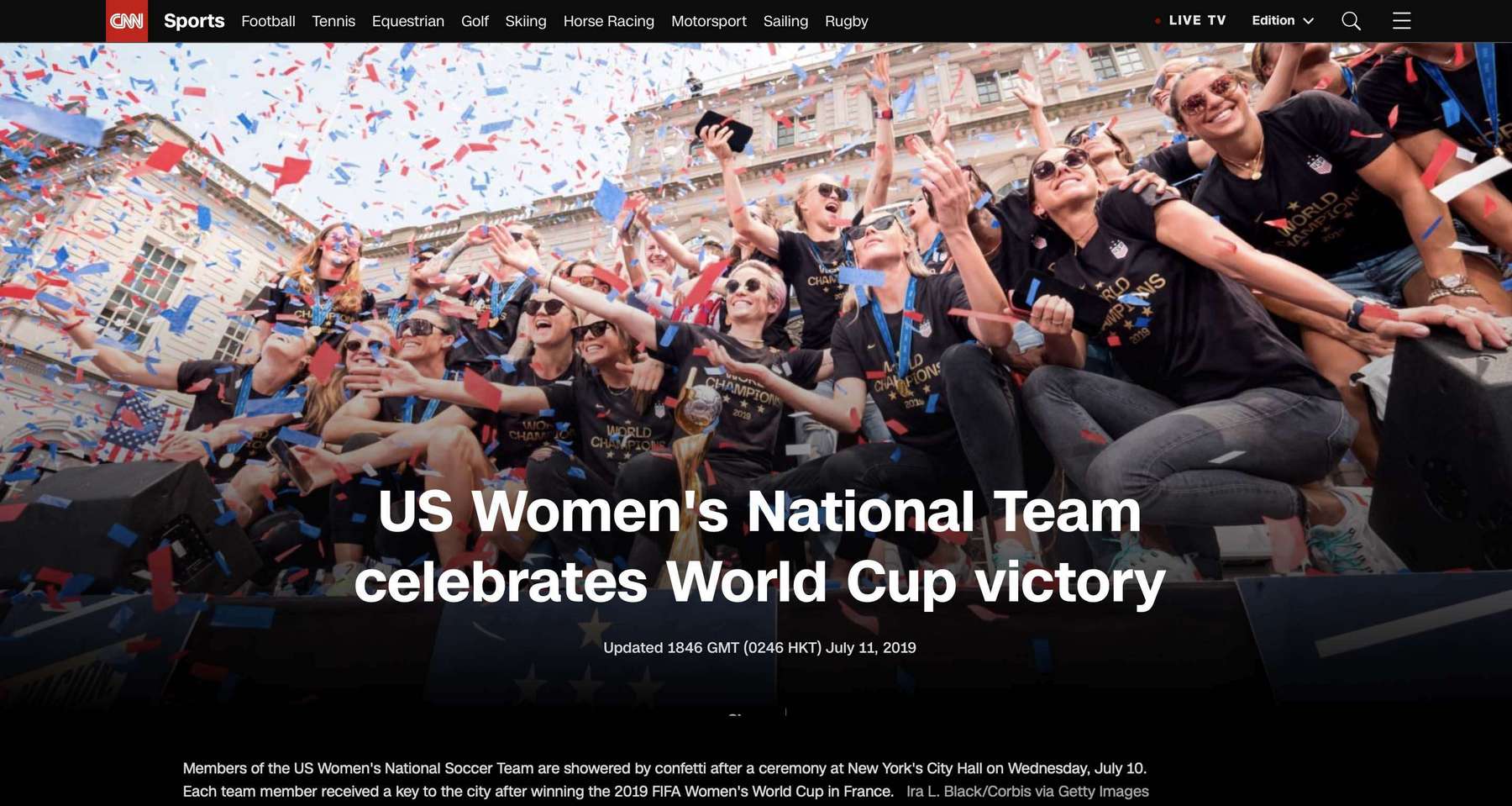 These posting will cover the following:
1) Gear
2) Settings
3) The true backstory of this shot

The gear: Per my last post, I am mostly a Canon shooter. However, in the last 2 years, I have also started using a mirrorless camera. I have chosen to use the Fuji XT-2 for my purposes. I started photographing back when I was about 11 with my dad and he gave me a Minolta SR-T-201 film camera. This Fuji has a very similar look and feel. And the shots and the color renditions are incredible!! For this shot, I was expecting to need a wider angle lens just because I was hopeful that I would be able to be very close and I wanted to make sure to get the team, the confetti and City Hall behind them. The Fuji is not a full frame camera which means that there is a crop factor of 1.5 to the sensor. Meaning that if I attach a 24 mm lens to the camera, it is the equivalent of a 36mm. Given this, I was using their 10-24 mm lens which at the widest opening of 10mm is really a 15mm.
The settings.
Lens (mm): 15
ISO: 800
Aperture: 4.5
Shutter: 1/1600
Program: Manual
The Backstory:
I have been a very big supporter of the USWNT for many years. Mostly because I saw the energy that was created between them and the fans. It was always exciting to watch them play and see them signing autographs, helping to inspire the next generation of female soccer, sports or other stars!! The empowerment that they conveyed to the next generation of women was great.

I had followed the team throughout the campaign to win the World Cup in 2015. There were friendly matches leading up to them going onto win the World Cup.
Though my media outlet, I was able to secure credentials for the Ticker Tape parade in NYC after they won in 2015. I was working with another photographer and he and I split the coverage. One of us would be riding in sanitation truck in front of one of the floats along the parade route and the other would be able to go to the City Hall celebration. Having photographed a number of parades over the past 15 years - I have a very strange obsession with photographing the ethnic day parades that happen in the city - I know that I enjoy making sure that I can roam freely. Not to mention the thought of being in a sanitation truck didn't sound too appealing. For the record, it was a very clean sanitation truck, but still.
I followed the parade route as it traveled through the city. I mostly stayed with the float that had Mayor de Blasio, his wife, Carli Lloyd, Megan Rapinoe and Jill Ellis (Head Coach). I knew that I wanted to make sure to vary the shots between close ups of the players holding the trophy and wider shots of the float with the city, ticker tape and fans lining the streets.
At the time, a big amount of attention was being placed on Abby Wambach because it was expected to be her last participation in a World Cup . Here is one of the shots of Abby from the Ticker Tape Parade back in 2015.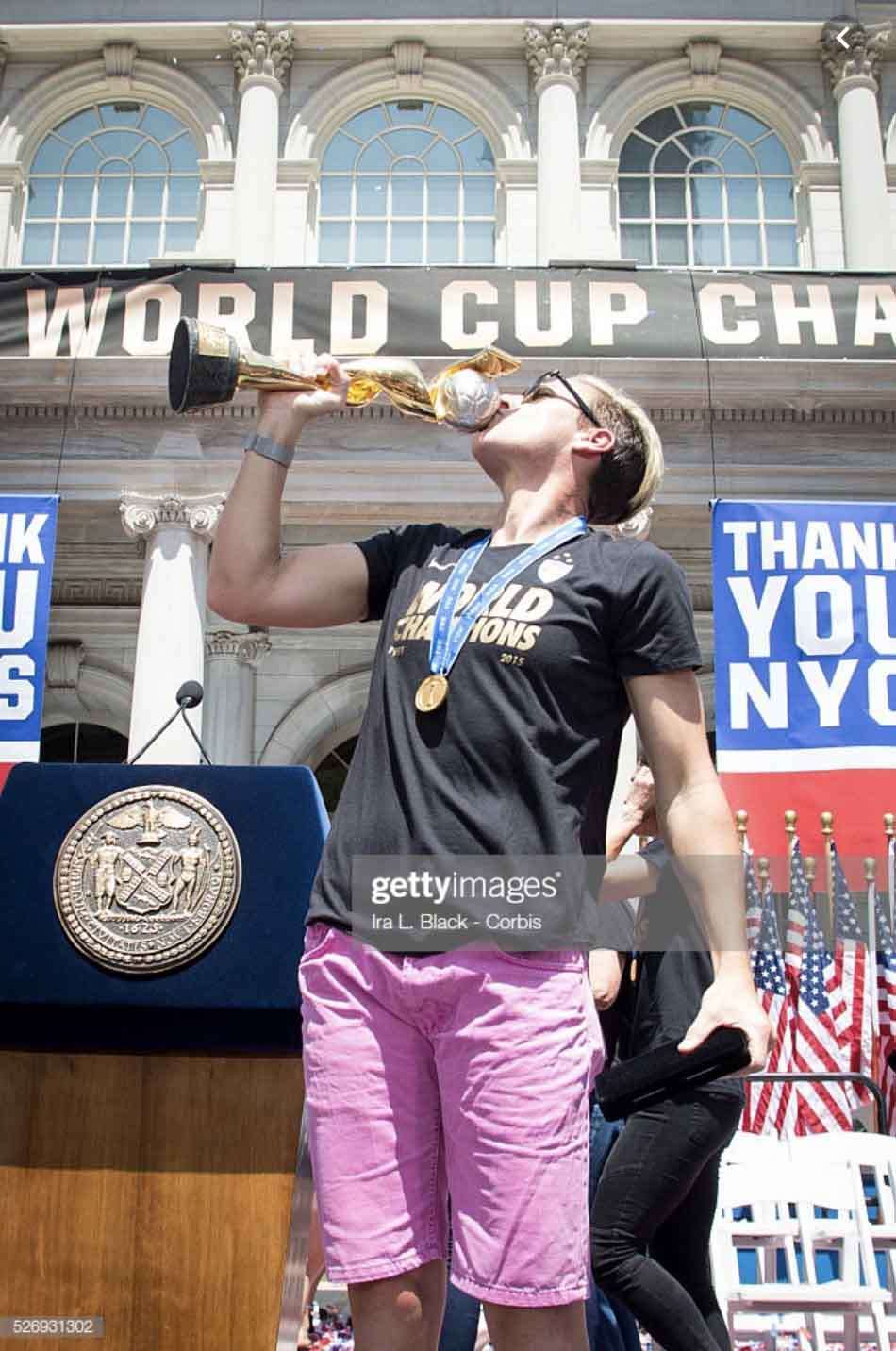 For this 2019 FIFA Women's World Cup, I had been trying to cover the team as much as possible. The U.S. Soccer Federation sponsored a "She Believes" campaign where there were a series of matches around the U.S. to enable fans to see the team and give them a supporting send off before the World Cup in France. I tried to cover as many of those matches as possible believing that the images would be used for stories leading up to the World Cup.

I think we all know how the 2019 FIFA World Cup ended. The U.S. Women's National Team won!!!
I had the opportunity to photograph the team as they came off the plane at Newark Airport arriving fresh from the World Cup victory. I have to say that when the doors opened and Julie Ertz, Alex Morgan and Megan Rapinoe stepped off holding the trophy, there were tears in my eyes. I felt so glad for them they they were able to put this exclamation on their effort as a team and as well be a symbol of strength, perseverance and equality for so many young women and people of diverse backgrounds.
This year's parade and City Hall celebration on July 10 was set to be very hot. I knew I wanted to cover both the procession of the parade and the City Hall celebration but it would be hard because I would be carrying so much gear. I would have 3 bodies with associated lenses.
I had been speaking with Vinny, fellow photographer who works for USA Today and he mentioned the gear he was bringing. He told me he was also going to bring his 400 mm lens. As we were talking, I was thinking, "Really man, that is going to be a pain in the ass to cart around." But the more I thought about it, it sounded like a good idea. This way I can also get some close up shots of the players.
I carpooled to NY with Vinny. We met at the local Stop and Shop in NJ parking lot at 5:15 AM. It was already 79 degrees at 5:15 AM.
We parked the car in a parking garage slightly far from the City Hall ceremony just to make sure getting out would be easy given all the barricades along the street. I had brought 2 camera bags with me. One, a larger one in case I needed to be stealth and carry everything in one bag. The other slightly smaller which would allow me to carry the 400 mm lens and any additional things I needed (breakfast bars) and I would carry the other 3 bodies on me via a harness for 2 and one around my neck. I chose to go with the smaller bag and carry my other 3 bodies on me as we left the garage.

We were able to pick up our credentials starting at 7:00 AM. The parade wasn't scheduled to start until 10:00 AM.
Vinny was credential to cover just the City Hall ceremony and was going to and wait until the parade is over as they had another USA Today Photographer covering the parade route.

I decide to cover the team going through the parade route and then cover the ceremony at City Hall. This means walking with all of my gear from City Hall to the start of the parade down by Battery Park a distance of 1.2 miles. And a backpack with the 400 mm lens (thanks Vinny).
I am pretty beat when I arrive to Battery Park. And pretty hot. I am thinking that my wife's comment about "Are you really going to wear jeans and 2 shirts?" might have been a precursor to something I should have rethought.
First order of business, find which float NYC Mayor Bill de Blasio and the other key players will be on. Given all the press surrounding the Megan Rapinoe, I know I will want to focus on her.
It is about 9 AM and the players start arriving and getting on floats. The energy gets going. I, along with about 35 photographers, and an equal number of broadcast people descend on the players. Fans are all along the sides of the streets screaming out there names and getting them to sign everything from shoes to balls to shirts before the parade starts. It is a pretty cool site.
I am negotiating around other photographers and the serious amount of security on hand that is trying to keep us back away from the players. I get into a bit of a thing with another photographer that wants to just try to shove me out of the way. Typically, when I am photographing, there is an understanding among other photographers that we all know we are there for the same purpose and that we can all get the shot we need without having to be jerks (wanting to be more forceful in my language, but my 11 year old son will read this). Sometimes however, there are a few photographers that can be shitty.
I am at the float with Alex Morgan, Megan Rapinoe the World Cup Trophy and a few other players. I shoot off a few images to get in the groove and shake off my nerves. I check my settings and my shots to make sure that what I am getting is worthwhile and looks right. I check my image count and keep track of when I have to change out cards. That is when it happens. I reach into my pocket to confirm that I have my extra case of memory cards which is where I always put it.
They are not there!! Holy Shit. WTF!!! "Ok, Ira, just relax. It is probably just in your bag." The parade hasn't officially started so I take a moment and put my bag on the steps of one of the floats to do a complete and utter cavity search for my memory cards. It's got to be here. As I am frantically checking my bag, I am thinking. I was up at 4:00 AM to make sure I could meet Vinny, maybe I left them at home. Maybe they are in the other bag that I left in Vinny's car.
It's confirmed. I don't have the memory card case and I am about to shoot the parade and the City Hall ceremony with just 1 card in each camera. Let me try to give you the magnitude of this screw up. This is and event that happens every 4 years. If you are lucky enough and the U.S. wins the parade will take place in the U.S. Who knows how long it might be before this happens again. And you only have 1 memory card per camera!!!
I am wearing a Captain American shirt that my wife got me for 4th of July and today seemed like a good day to wear it. Go team USA!! Except that I am absolutely certain that Captain America wouldn't be shooting the parade with no extra memory cards.
It is about 9:10 AM and I start calling my wife. Hoping that she can confirm whether I was stupid enough to leave my cards somewhere like on the fireplace mantel before I left in the morning. She, is still sleeping. I call another 3 times and she still doesn't answer.
I call Vinny. "Dude, I don't have my extra memory card case. I think I left it in my other bag in your car in the garage. Is there any chance you have any extra memory cards on you?" His answer was, "Yes, once you finish the parade and get to City Hall, I have an entire extra set I can let you use." For the record and off the record, I love him. If I have another child, we would most likely name him Vinny and when little Vinny asks how he got his name, we can tell him this story.
But for now, my focus has shifted. I have to shoot the parade and get to Vinny for my memory card life support.
I realize that having 1 card per camera is still not going to get me there if I am shooting even just the parade. I could shoot using a lesser quality setting to give me more images but I dont want to do that for this event!!
I see a few of the photographers in the sanitation truck. Its the usual suspects of photographers that I know from shooting events over the past 10 years. Al Bello, Chief Sports Photographer of North America for Getty Images, is one of the photographers in the truck. Al is one of the best sports photographers on the planet and just an all around amazing person. Coincidently enough, I took a sports photography seminar with Al about 10 years ago when I was just starting out. Right or wrong, I decide that I am too embarrassed to ask my hero Al if he has any extra memory cards. As a freelancer, I am always trying to create great images, but in the back of my mind I am also fighting the feeling of being legit. I think asking Al would clearly say I am not legit. Captain America wouldn't have to ask Al Bello for memory cards. Al is actually Captain America.
There is another photographer that is in the truck that I also know but do not feel as shy asking if he has any extra cards. He lets me have an extra of his Compact Flash cards and I thank him profusely.
As I am waiting for the parade to start, I happen to run into a friend, Ed Aussem, that is behind the barricade and photographing with the crowds lining the street. I shake my ego and tell him of my plight and he also agrees to give me an SD card to use. I thank him as well, promising to give him a print from the parade as a token of my thanks. (For the record, Ed's last name is pronounced the same as Awesome, which is what he really was that day. Also. I did make good on that promise of giving him a print from the day).
The parade starts. I follow the float with Megan, Alex, the Mayor and others. It is hot. I mean Desert Iguana hot!! Meaning that it is good weather for an Iguana. There are crowds of photographers pushing, there are security personal keeping us this way or that. There are people trying to interview the players. There are fans with signs. There is ticker tape coming down from the sky. It is chaotic, and magical. I am hot, I am being pushed, I am trying to get a shot. I am running backwards to follow the float. I am just thinking, I am so glad that I am here and that I have some extra memory cards to keep shooting freely.
We make our way to the end of the parade route. I am hot. It is 88 degrees and it is blazing sun. I am drenched with wet all over. My jeans are soaked. No joke, And I have not had anything to drink since the start of the parade. I am feeling it and feeling a little lightheaded.
My only thought is I need to get to Vinny for my intravenous shot of memory cards. I try to get into City Hall at the opening closest to me. I have my proper credentials around my neck but the security is telling me that there is only one way in. Around the complete other side of City Hall.
There are thousands, I mean thousands of people trying to move in any direction. There are barricades blocking the paths. I need to get me and all of my gear around to the complete other side of City Hall. You got to be kidding me.
Did I say I was hot?
I make it to the other side. I get in. Metal detector. I have to take off all of my gear to have it scanned. Then put it back on.
I am rushing. They are about to start the ceremony on the steps of City Hall.
I get through to City Hall. In the distance along the back wall of media, I see either Vinny or a mirage of Vinny. I don't care. I am happy to see ether one of them. It is actually Vinny. He sees the state of dehydration I am in and recognizes that I am about to go down. He hands me a water and says, "Drink this." He is in triage mode. He also hands me a sleeve with memory cards. I learn later on our ride home that he as seen people pass out from heat exhaustion so he knows I was close to it.
I take the water and just sit on the floor for a moment trying to find a sliver of shade. I am hot. I am tired. I am soaked. I am happy I have water and memory cards.
I recover long enough to make a decision that I want to move up front to shoot from the front rather than from the back.
I see other photographers with me, a line of about 35 to 40. Maybe more. Hard to tell, still just recovering from possible heat stroke.
They are all trying to take a position directly in front of the podium.
I decide to take a position slightly off center to the right recognizing that from the direct center the podium mostly blocks anything of a good shot but off to the right I can get a clear shot of the person talking. The way that they have the chairs set for the players there is a series of them on the left and the right of the podium. I take a chance and position myself to the right of the podium and hoping that Megan and some of the key players take the seats on the right side.
The only problem with this position is that the TV camera that is covering the event is directly to my right. It is a big heavy object with a see saw like metal lever that has something like 100 pound weights at the bottom of it to stabilize it. The 100 pound plate swings back and forth and I have to be careful to not get hit in the head by it. As I keep moving farther right to get a better angle on my shot, I am coming closer to the TV camera boom and a security women keeps asking me to keep left as she is also worried that they will hit me in the head. Getting hit in the head with the TV boom would be the same as not having memory cards, I would be rendered unconscious and not able to take any shots.
I shoot the ceremony on the steps of City Hall. I vary my shots between the 70-200 and I get to actually use the 400 mm with the speeches and reactions. It is amazing to have this extra coverage and perspective. Vinny, ok you were right!!
When the ceremony is over, there is a clear dash for the center to get the full team with the Trophy and the confetti coming down on them. I am at a slight disadvantage given my position to the right, but I am able to move quickly and get right in front. I switch to using the Fuji with the wide lens. I get the shots of the team with the confetti.
I had given myself a goal for this shoot. And it was not, "Hey man, don't bring any memory cards so that the only memory of this is in your head or from other photographer's shots."
The goal was to try to get a shot of Megan that was good as the one that I got from the 2015 World Cup Champions Ticker Tape Parade.
I am taking a poll to see which one you like better? 2015 or 2019?
Megan Rapinoe 2015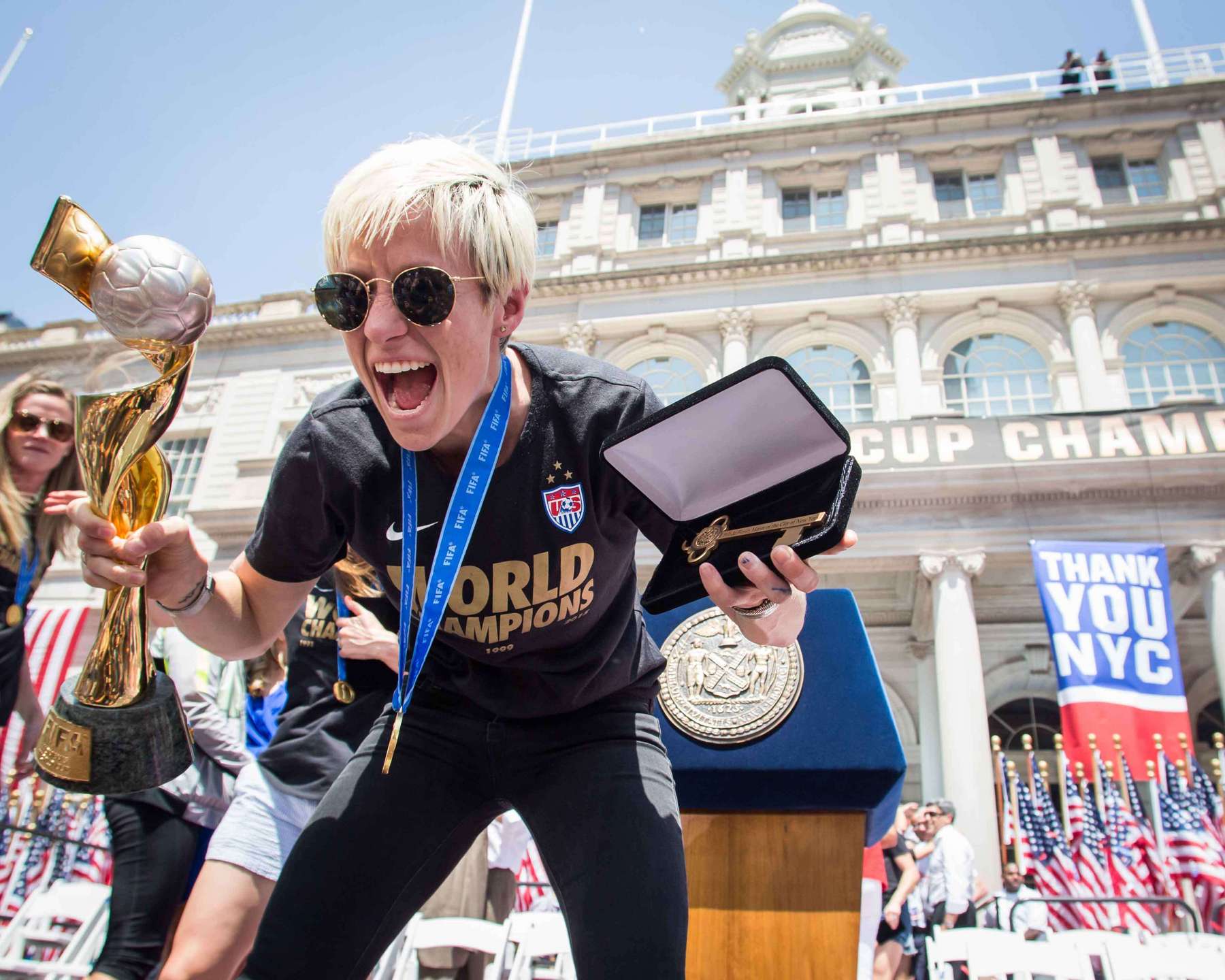 As further background. I had a moment before the parade started to show this shot to Megan and tell her this is the shot that I took of her from that celebration. She said, "That is a great shot."

Megan Rapinoe 2019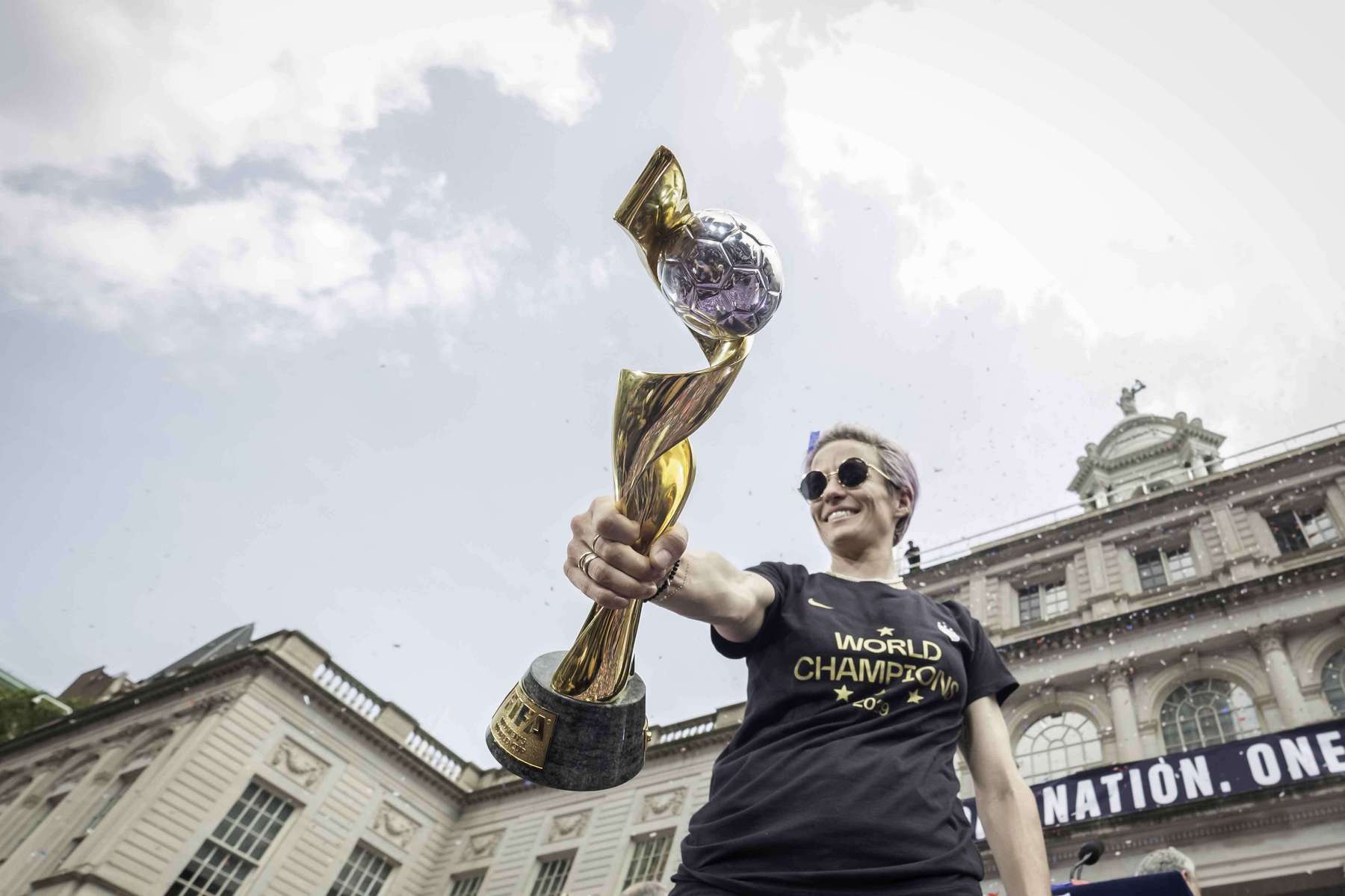 Here are 2 shots of me:
1) On one of the floats just before the start of the parade (wearing my Captain America Shirt)
2) After everything was over covered in confetti and I was heading to go to edit and upload my images. You can see the TV camera Boom just behind me on the left.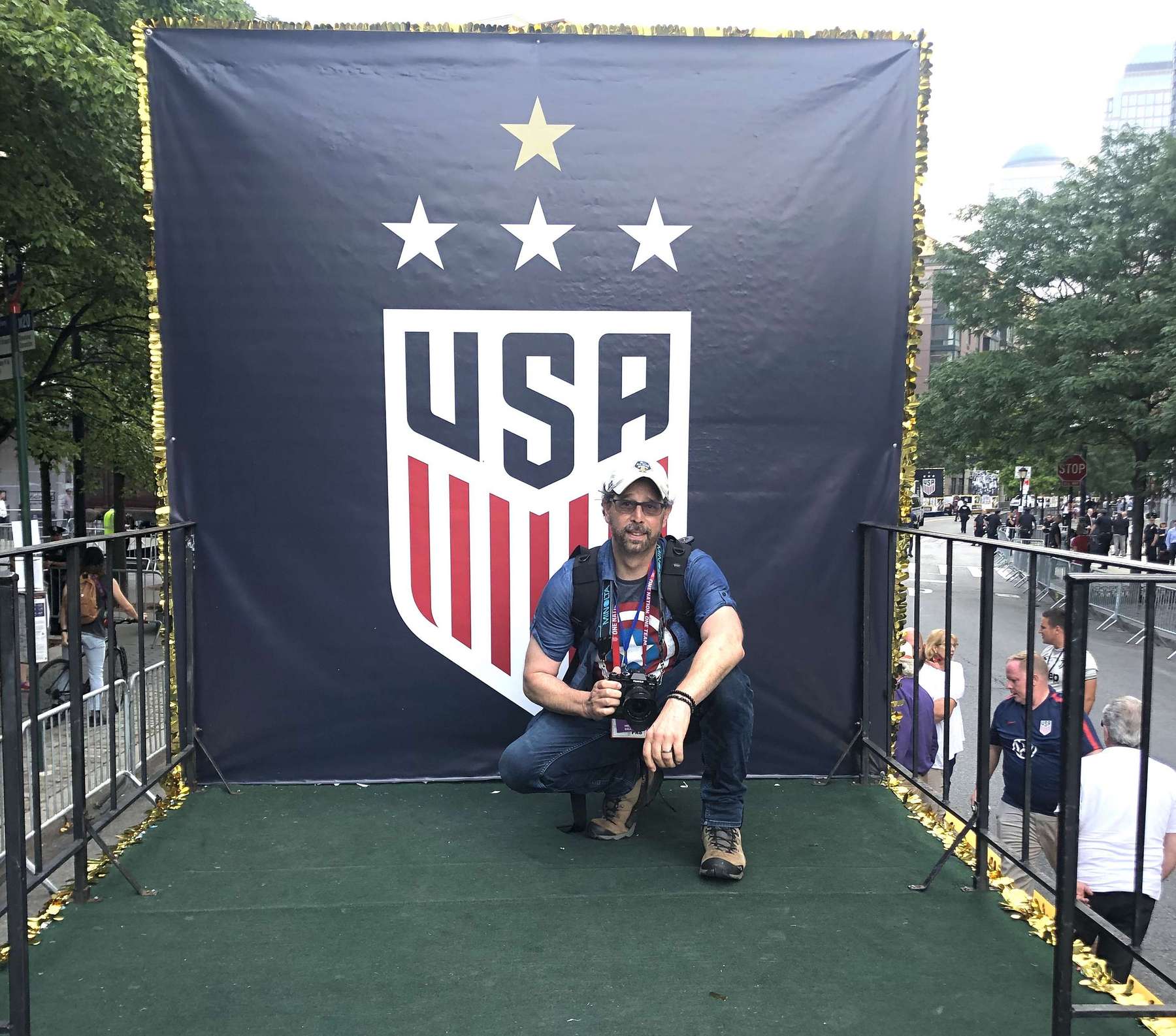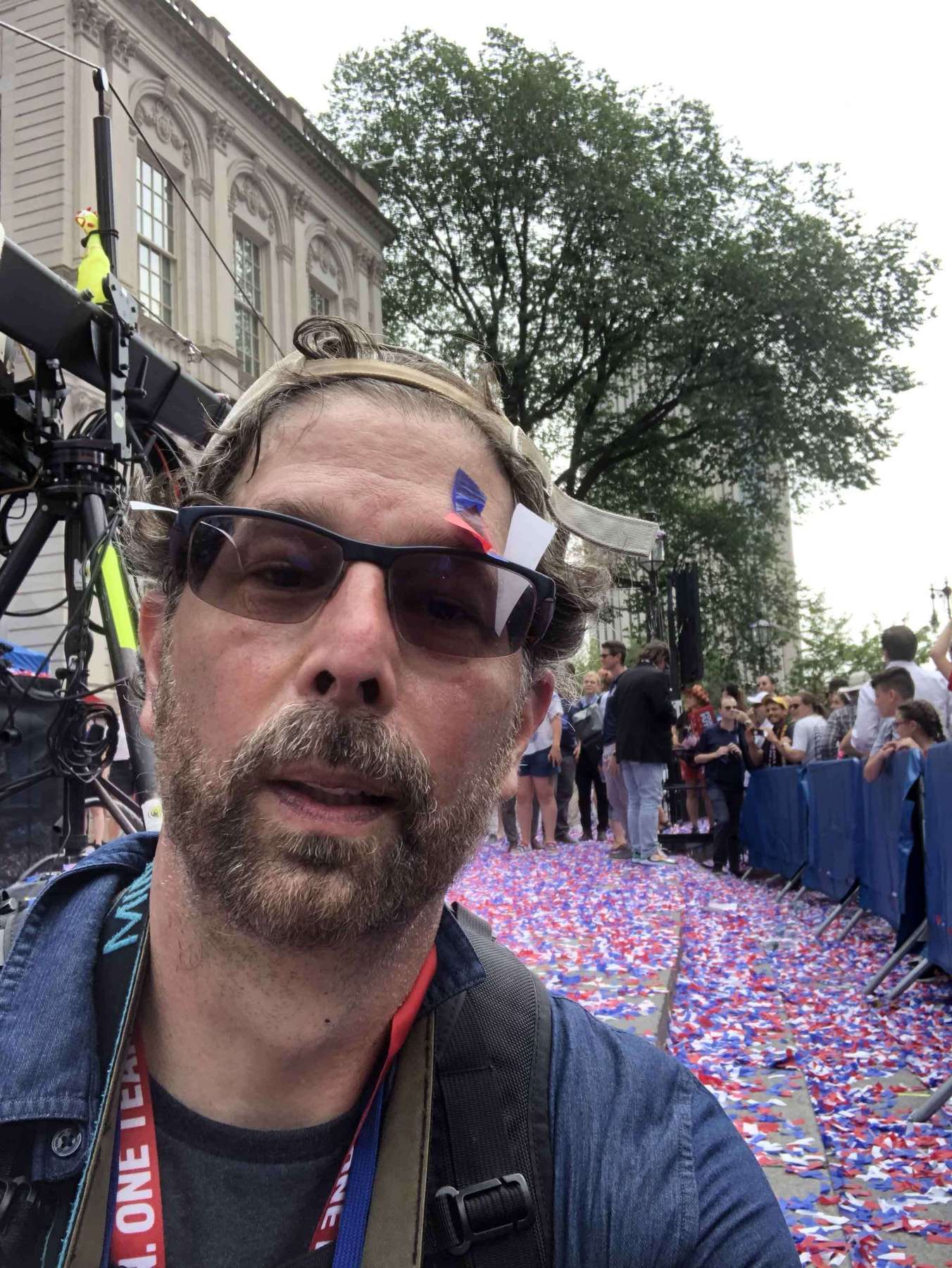 I have a standing saying as I leave my house as a way to make sure I have everything.
Wallet, Cell Phone, Ring, Pen, Keys.
And now Memory Cards are absolutely added to this list!!