How I Got This Shot: 12 Hours for 12 Minutes and 1 GQ Article
August 07, 2019
This shot of Real Madrid Head Coach Zinédine Zidane that was featured in French GQ Magazine was something that I thought would be a good opportunity to start a "How did I get this shot? blog." The headline reads, "Zidane responds curtly to Gareth Bale's agent."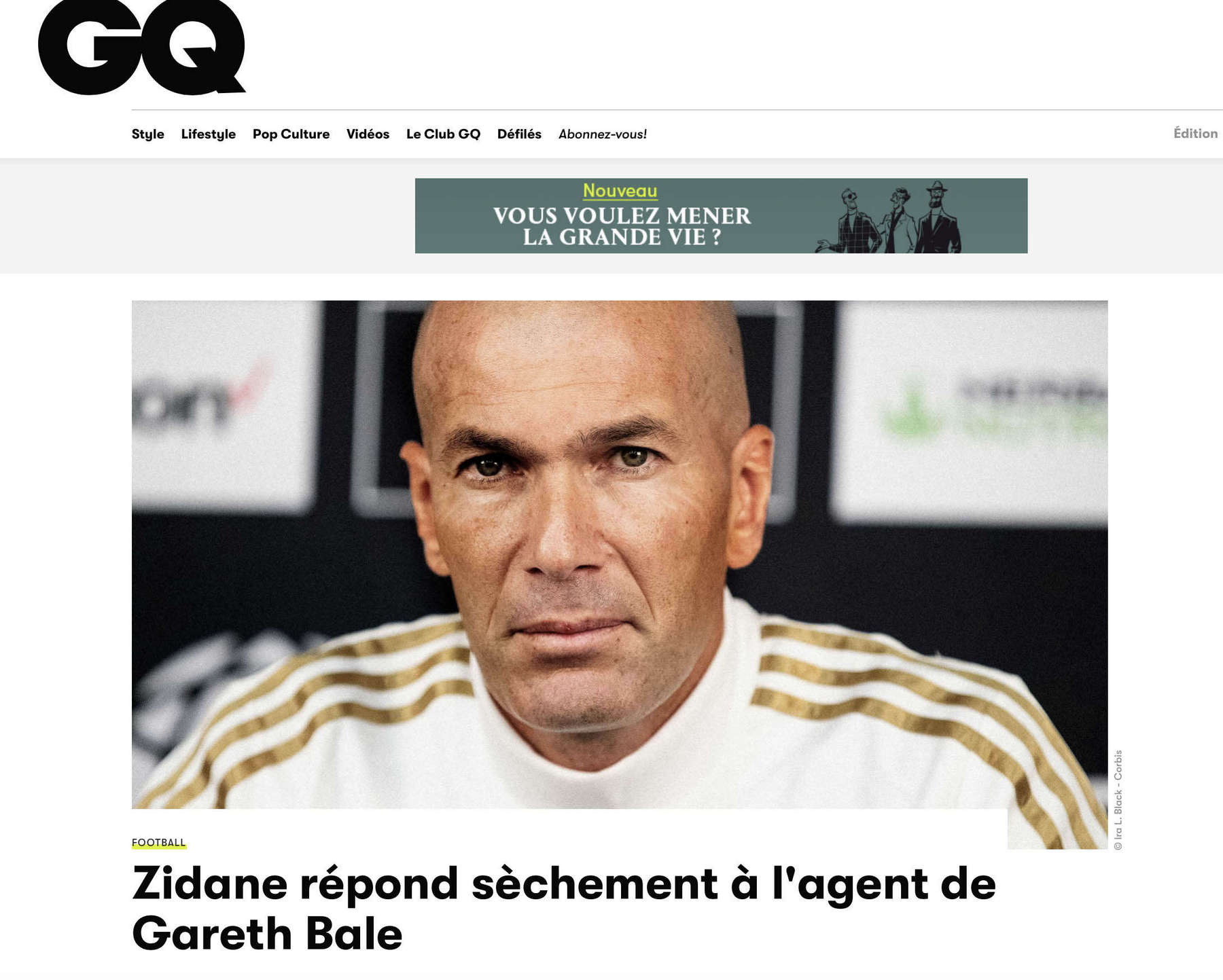 In this I want to give the reader some of the important information:
1) Gear
2) Settings
3) The true backstory of this shot
So, here goes, I hope this is helpful for others that are trying to be great at their craft in the arts.
The gear: I am currently using mostly Canon gear. It is not for any great reason other than I have a significant investment in bodies and lenses. For this shot specifically, it was the Canon 1DX Mark II with a Canon EF 70-200mm f/2.8L II (note that there is a newer version that Canon recently released as an upgrade for this lens which is the Canon EF 70-200mm f/2.8L III).
The settings.
Lens (mm): 200
ISO: 4000
Aperture: 2.8
Shutter: 1/400
Program: Manual
The Backstory: This shot was taken during a press conference the day before a match between Real Madrid and Arsenal. The press conferences usually are very quick events that require you to think and act fast to get anything valuable. Let me take you back to the moments before this frame was shot. Since this press conference and match were being played in the DC area, I needed to get from NJ to DC which is typically between 3.5 to 4 hours. Actually that is not true.
On this particular day I was leaving from having spent a long weekend with my family in upstate NY. I had to get back from there to NJ first and pick up my gear and then drive to DC. This added an extra 2 hours to the driving time. This is the reason that I left at 5:00 AM. My son and my dog had managed to both find themselves in my bed with me and my wife sometime in the middle of the night before I was leaving. The 3 of them were looking very comfortable and making it extremely hard to just say, come on man, is the press conference and training really that important. It is 5 AM. Just climb back in bed and share some more quality time with your family.
The pursuit of getting the shot somehow won that battle. I got back to NJ at about 8 AM, picked up my gear and left for Audi Field in DC. As I was driving down, my GPS kept rerouting because it was saying that there was another accident.
The press conference was scheduled to start at 6:00 PM. I got to the stadium at about 3 pm. I like being at places very early. I would rather sit around than be rushing in to a shoot. As we were waiting outside the stadium to get in, some of the players were arriving as there was scheduled to be a press conference and then a training session for the team.
I got out my gear to see if I could get off a few quick shots of some of the players arriving. I took out my 1DX Mark II and attached it to my Canon 400 mm 2.8 lens. I attached my 5D Mark III to my 70-200 mm 2.8 lens. I tested out a few shots and that is when it happened. I was shooting with the 400 mm and it would fire off a few shots and then give me an error message. I was like, ok, just a blip. Shut off the power and turn it back on. Same thing. Let me just check the connection to from the camera to the lens. Same error message.
Shit!!! Are you kidding me? Not now!! Not for a Real Madrid match!!
We were now being lead into the room for the press conference and I have a MAJOR equipment failure happening. I had a few moments to test whether the error was also happening if I attach the 400 mm to my 5D Mark III body. I had within the last month had my 1DX body fully overhauled. I bought it 3 years ago and the recommended amount of frames for that body is 400,000. When they told me that I had 514,000, I had them replaced the entire shutter.
Yes, it is still happening. Ok, think Ira, think. I realize that the 400 mm attached to the 5D body is cranking out a few more frames than if it was attached to the Mark II. Either way the process to make any images happen with the 400 mm was to shoot a few images. Get the error message and then turn the camera off, turn it back on and then get out a few more frames. I think I mentioned that Press Conferences are not long.
In checking my log, the first frame of him walking into the room is at Time: 5:50:28 PM. The last frame of him concluding the press conference is at Time: 6:02:34 PM. 12 Minutes and 6 seconds. Thats it!!! And I am fumbling with an equipment failure that is causing me to take 3 shots and then restart my camera to take more pictures. I varied my shots between the 400 mm and the 70-200 mm. There are about 25 broadcast film crews, some as far away as Japan since Real Madrid just signed what they are claiming is the "Japanese Messi", about the same number of still photographers and a number of journalists. We are all positioning for a place to get a shot.

The goal I give myself is to make sure that I am getting something unique and possibly different from all the other rapid fire clicks I hear around me. I move around the room trying to shoot Zindane from a different angle, pressing the shutter when he shows a different expression, shooting him directly on and from his profile.
Here is one of the shots that I was able to get using the 400 mm lens. I thought it had more intensity as a black and white image, stripped of any other distractions.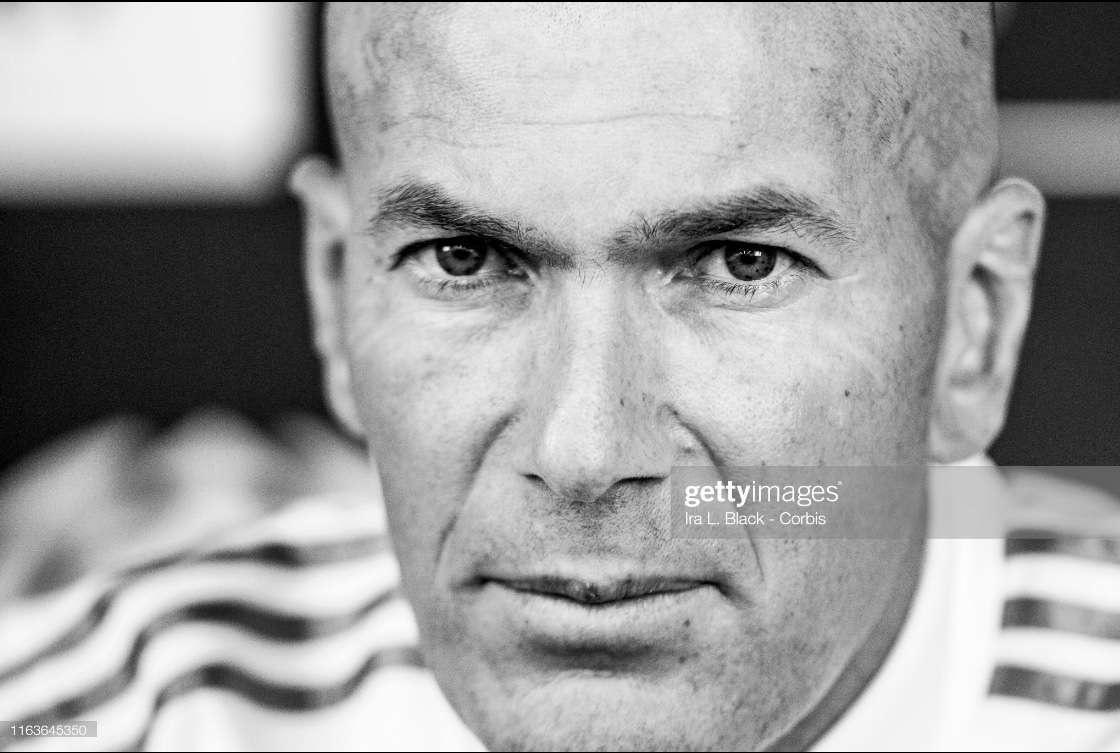 I know that Zindane is a subject of many articles having been a player of great importance at Real Madrid and then being a Head Coach and in total leading Real Madrid to the UEFA Champions League an unprecedented three times consecutively, a La Liga title, a Supercopa de España, and the UEFA Super Cup and FIFA Club World Cup twice each. His success saw him named Best FIFA Men's Coach in 2017.
Having photographed many press conferences over the past 10 years, I was careful to get an angle that gave me a clear shot of him. Not being distracted by the microphone or a water bottle or an interpreter sitting next to him. I also wanted to make sure that the signage behind him was blurred out and not so distracting which is the reason for the f/2.8 aperture. I want to make sure I get a shot where he is showcasing some emotion or expression.

After the press conference is over, I review the images that I shot in Photo Mechanic, a rapid photo reviewing program, hoping that I got anything good from the 400 mm with all of my turning off and on my camera. From there, I select the images that I believe could be used for a variety of articles I do my editing in Lightroom for final adjustments before loading the images onto the Getty Images site. I am typically hard on my self and my images, but when I saw this, with him looking directly at the camera, I was hopeful that it would get picked up for use in an article.
In this particular case, there was a great amount of press on the fate and future at Real Madrid of one of their star players Gareth Bale which is why the image was picked up by French GQ.
As stressful as this was, I was grateful for the 12 hours it took to get 12 minutes and 1 French GQ publication.